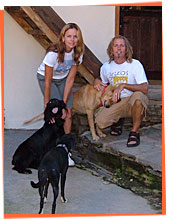 Our primary responsibility is meticulous care and safety of your home/estate and pets plus general upkeep of property, gardens, and pool.

We are first aid and pet first aid certified.

Personal Information
We are married, professionals, 48 and 52, healthy, responsible, physically fit, drug-alcohol-smoke free. We love traveling and meeting people, nature and animals, running, biking, hiking, sailing and of course each other. We are available for short- or long-term assignments throughout the world.
Additional skills: Computer, internet and wireless technology, solar technology, gardening and handyman work.
Able to see big picture, excellent with details.

Language: English